Hi All, welcome to my very first blog post as a participant of the the Altenew Certification Program.

A little about why I joined the program….. first of all for those that know me well I like to be behind the scenes when it comes to creating. This may shock some of you but I have a lot of fears about my crafting abilities. I love crafting but I have a OCD personality when it comes to presenting my final crafting pieces. What I want to achieve with this course is to push myself with techniques, styling and especially my confidence for 2021.
So here it goes my first post…
This post is all about stamp layering. Altenew offer a great range of layering stamps (which I had already purchased but used sparingly). Having said that I was always not confident in not aligning these stamps correctly ….even though they provided samples and images on what to look out for as far positioning goes, I still felt like I was doubtful in my capabilities in getting it right the first time. Once I took that negative chatter out of my thinking I was able to create more with ease and pleasure. It took me until my second creation to enjoy the process.

What I do recommend from what I learnt in the Layering courses, is using a stamp positioner like the MISTI or following Nicole's informational step by step instructions. If you want to master all things layering she is the Queen!
Class Link – HERE
Have all of these wonderful layering stamp sets, but not sure how to use them? Do you want to be more creative with those layers and make something amazing? In this class, you will learn how to use Altenew's layering stamp sets and line those images up easily and perfectly! You will also learn different ways to utilize the stamps to create wonderful cards in no time.
Our leading instructor Nicole Picadura will walk you through in detailed videos so you can tackle those layering stamp sets with a snap of a finger! Also, each lesson will share different ideas to create projects using stamp sets.
Instructor: Nicole Picadura

Here is my first ever card, practicing my layering process. Let me be honest I started in going in very strong as I was over enthusiastic, wanted to share everything I learnt, stamp everything out perfectly and over embellish. What I learnt from my first card is that clean and simple is best, enjoy the process and bring it back to basics. The stamps itself add quite a punch and there is no need to over do it. Also another thing I learn shake up your glitter brushes well and don't squeeze while adding the detail to dye inks and not add a big fat blob in the centre of the flowers.
My stampset of choice for today's card I have used Fabulous Florets this stampset is what I would class has medium size images which made for good practice. I have to say the MISTI came in handy for not only the stamping and placement but for also my mini ink pads. As this image has a solid image which is is bigger than my mini ink pad the impression on pressing my mini ink pad to the image can sometimes leave the size of the ink pad marks. To remedy this I press and twist/swipe ever so slightly and stamp and repeat the process at least a couple of times to get a good coverage and overall stamped solid image. I then go ahead and stamp and align the rest of the floral image and hand cut out. There are matching dies available for this floral stampset however I did not have them on hand so I proceeded to hand cut them all out. This included the leaves as well.
The front card base has been dry embossed with the Angled Mosaic 3D folder and adhere down with liquid adhesive to allow for wiggle room. The reason why I chose a 3D embossing folder is to add a subtle white on white texture.
For the sentiment, I have used the Birthday Builder sentiments which I have stamped in Desert Night ink on a half inch strip white cardstock which I have foam mounted on to give it dimension. To finish the card off I have used clear sequins and adhered these down. I have to be honest here I am still working on the placement of sequins on my card creations. Sometimes there are days where I feel like a nailed it and there are some I know I over did it. Do you have the same issue?
For the next card I know what I need to work on. Thanks for stopping by and I look forward to show casing what I learn next.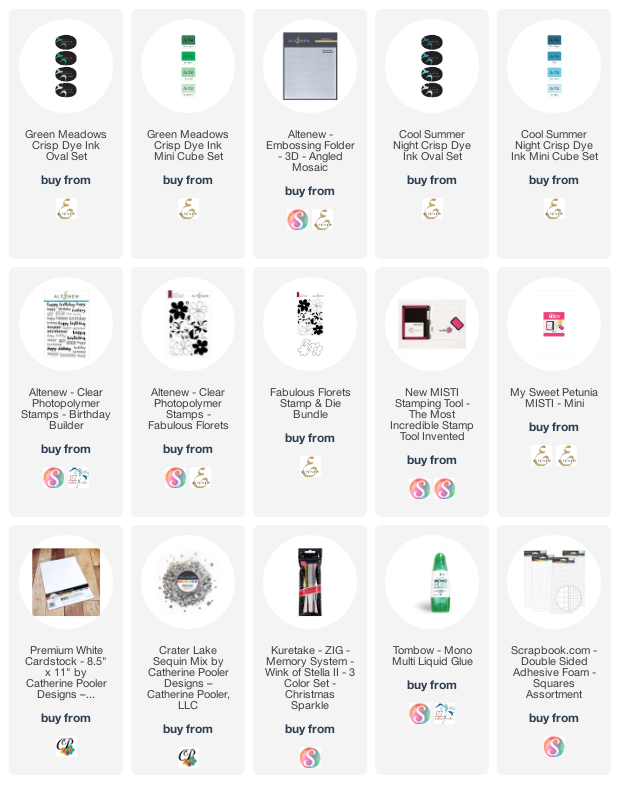 Till next week,
Jo
——— FIND ME ONLINE———
Facebook | Instagram |Blog | YouTube Channel
I have used compensated affiliate links in this post, which means I get a small commission from the company directly at no extra cost to you whatsoever, if you shop using these links. Any earnings I get from these links go back into keep up with the craft creations to provide you some inspiration. If you enjoy my work, I'd be so grateful if you choose to support me this way. Thank you in advance!