Hi All, welcome to my card set creation for the Craftie Cafe design team. I had so much fun playing along with the Ken Oliver Colour Burst range to add some intense vibrancy to my cardset. I have played with these before and let me just say I am so glad I have rediscovered them. I love that initially it doesn't look like you have put that much of the pigment down but once touched with water it was like an explosion of intense , vibrant and beautiful colours on my cards. I have added water with my Distress Sprayer as it disperses a fine mist when pulled in full spritz mode. Now my biggest tip when it comes to handling these powders is to make sure they are thoroughly dried before touching with your fingers as most likely you will get them on there. Now if you don't mind having them on your fingers feel free to continue on. But because in my case I was using a white top folding card base I had to be a little more mindful of my hands.
The 3 Colorbursts I have used are Violet, Ultramarine & Phthalo Green. All Ken Oliver colour ranges have an array of pigments in the same colours leaving a range of intensity leaving a WOW factor behind.
For my product focus I have chosen this adorable Lawn Fawn "Meow You Doin" stampset. I hope you enjoy my process video with this stampset.
For the dies I have used the Lawn Fawn Cross stitched in the small rectangle and circle range.
Here are the ink colours I have used from the Lawn Fawn range.
I feel like my cardset has a mixed media to it with the stencil, texture paste and the colour burst. I don't know why I felt compelled to make this type of card but I just had all these items out on my desk and just went for it. My layering process started with the colour burst panel, then stencils and texture paste then dies.
Thanks for visiting and would love to hear from you.
Hugs
Jo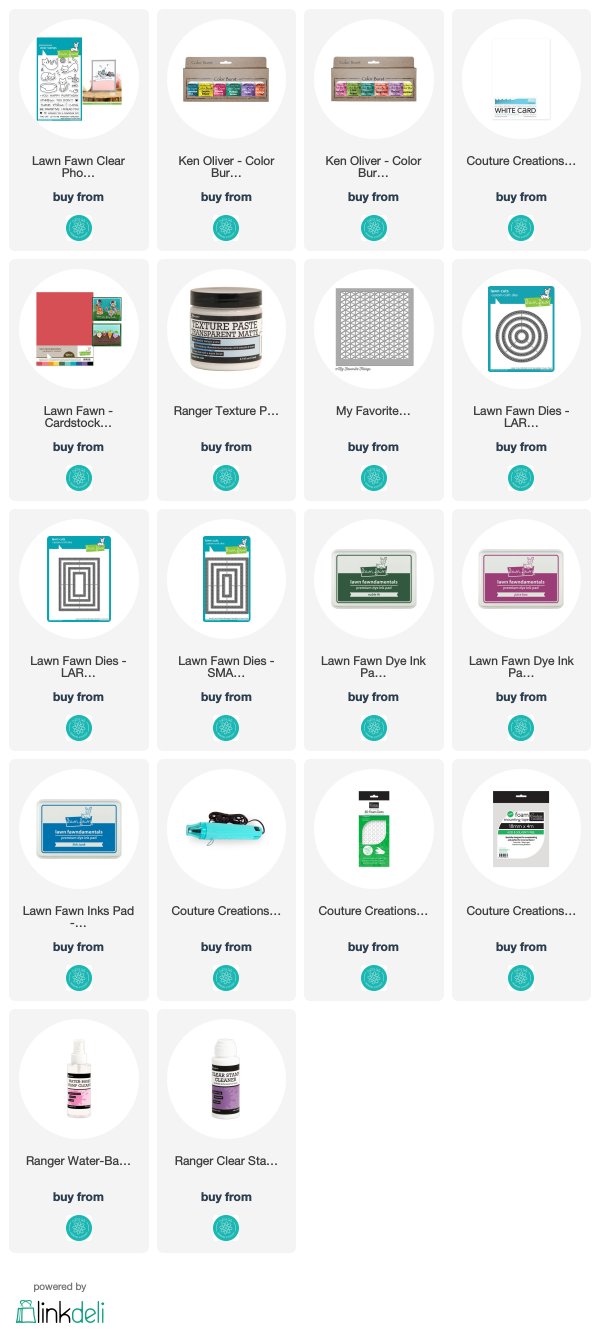 Linking up: – Addicted to stamps | Creative Moments  | The Crafty Addicts Challenge Blog |Create & Makes Blog Challenge |