Hi all and welcome to today's blog post from Spellbinders, the Photosynthesis Collection by Simon Hurley is a release that is not only stunning the variety of dies and glimmer plate sentiments not only compliment each other but are great for stretching for further cardmaking use. One thing I love about Spellbinder is that I can always mix and match every collection so that it is not isolated to just use with each release only but you can continue usage with multiple collections.
For today's card, I have used Must-Have Sentiments Glimmer Hot Foil Plate & Die Set, Floral Stems Etched Dies, and Ceramic Vases base Etched Dies from the collection. To stretch the use of the vases, I have also extended the use by hot foiling the vases with etched designs. These imprints worked really well with the hot foiling technique, especially the rainbow foil on black cardstock.
For die-cutting all the florals I used a pattern paper watercolour pack, I used the Kraft cardstock for the pot plant base for a neutral placement for the florals. For ease of mass production, I also made gold, teal, and rainbow foil sentiments. The reason why this was easy to mass-produce as it comes with coordinating dies. I am not usually one to make sure I have coordinating dies for sentiments as I can use my cutter bee scissors but the convenience was pretty awesome. I am not going to lie, I have loved having coordinating dies in this instance.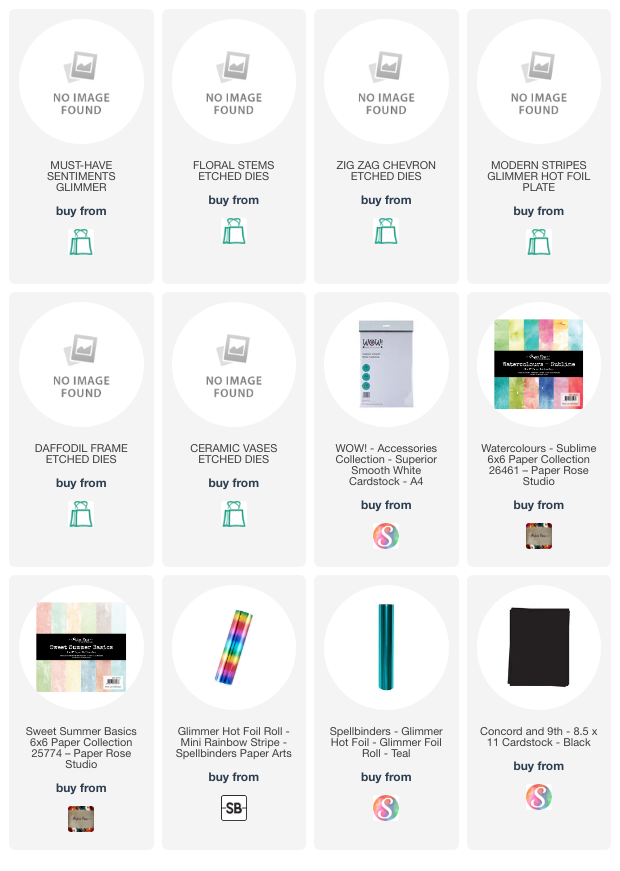 I have used a compensated affiliate link in this post, which means I get a small commission from the company directly at no extra cost to you whatsoever if you shop using these links. Any earnings I get from these links go back into keeping up with the craft creations to provide you some inspiration. If you enjoy my work, I'd be so grateful if you choose to support me this way. Thank you in advance!
Must-Have Sentiments Glimmer Hot Foil Plate & Die Set is from the Photosynthesis Collection by Simon Hurley. A single plate foils six all occasion sentiments and its coordinating thin metal die cuts them all at once! Make several cards with a couple of movements! As the name says it is a must-have for card makers.

Glimmer Hot Foil Plates add stunning foil features to any project from cards to mixed media and more. They are designed to be used with the Spellbinders Glimmer Hot Foil System (or other compatible hot foil system). Foiled Elements can also be added to various materials and thicknesses with your Platinum Die Cutting & Embossing machine and more.

Approximate Size:
Dies:
Hello Outline: 1.39 x 0.40 in./3.50 x 1.00 cm
Just a Note Outline: 1.31 x 0.86 in./3.30 x 2.20 cm
Thank You Outline: 2.19 x 0.61 in./5.60 x 1.60 cm
Thinking of You Outline: 1.98 x 0.92 in./5.00 x 2.30 cm
Sending Hugs Outline: 1.78 x 0.86 in./4.50 x 2.20 cm
Love You So Much Outline: 1.87 x 0.86 in./4.70 x 2.20 cm

Plates:
Hello: 1.29 x 0.30 in./3.30 x 0.80 cm
Just a Note: 1.21 x 0.76 in./3.10 x 1.90 cm
Thank You: 2.01 x 0.51 in./5.30 x 1.30 cm
Thinking of You: 1.88 x 0.82 in./4.80 x 2.10 cm
Sending Hugs: 1.68 x 0.76 in./4.30 x 1.90 cm
Love You So Much: 1.77 x 0.76 in./4.50 x 1.90 cm
Floral Stems Etched Dies are from the Photosynthesis Collection by Simon Hurley and have a set of 23 thin metal cutting dies to create so many kinds of blooms! There are cone flowers, mum, daisy, and lily. Add on the various supporting elements like sprig, stem, and many kinds of leaves. Works well with S5-584 Ceramic Vases Etched Dies Set to complete the whole look!

Approximate Size:
Sprig: 1.49 x 4.66 in./3.80 x 11.80 cm
Stem: 0.27 x 3.67 in./0.70 x 9.30 cm
Long Curling Leaf: 0.67 x 2.10 in./1.70 x 5.30 cm
Wavy Leaf: 0.46 x 1.40 in./1.20 x 3.60 cm
Five Point Scalloped Leaf: 0.62 x 1.07 in./1.60 x 2.70 cm
Bent Leaf: 1.17 x 0.65 in./3.00 x 1.60 cm
Wavy Longer Leaf: 0.42 x 1.50 in./1.10 x 3.80 cm
Bent End Leaf: 0.58 x 1.22 in./1.50 x 3.10 cm
Cone Flower Base: 1.28 x 1.01 in./3.20 x 2.60 cm
Cone Flower Layer: 1.58 x 1.00 in./4.00 x 2.50 cm
Cone Flower Center: 0.49 x 0.50 in./1.20 x 1.30 cm
Mum Base: 1.36 x 1.60 in./3.50 x 4.10 cm
Mum Layer: 1.11 x 0.93 in./2.80 x 2.40 cm
Full Daisy Base: 1.40 x 1.52 in./3.50 x 3.90 cm
Full Daisy Layer: 1.16 x 1.44 in./3.00 x 3.70 cm
Daisy Base: 1.04 x 1.81 in./2.60 x 4.60 cm
Daisy Layer: 0.95 x 1.69 in./2.40 x 4.30 cm
Daisy Center: 0.27 x 0.42 in./0.70 x 1.10 cm
Lily Base: 1.39 x 1.63 in./3.50 x 4.10 cm
Lily Layer: 1.70 x 1.57 in./4.30 x 4.00 cm
Lily Stamens: 0.75 x 0.91 in./1.90 x 2.30 cm
Lily Stigma: 0.33 x 0.63 in./0.80 x 1.60 cm
Ceramic VasesEtched Dies are from the Photosynthesis Collection by Simon Hurley and have a set of 12 thin metal cutting dies. There are six vase designs to fit any occasion or mood. Each has its own design debosses insert to create a dimensional motif without the extra layer. Fill them with flowers from the S6-215 Floral Stems Etched Dies Set!

Approximate Size:
Tall Vase: 1.01 x 2.47 in./2.60 x 6.30 cm
Cherry Blossom with Handles Vase: 1.55 x 2.17 in./4.00 x 5.50 cm
Zig Zag Vase: 1.83 x 2.25 in./4.60 x 5.70 cm
Round Vase with Diamonds: 1.61 x 1.61 in./4.10 x 4.10 cm
Curved Lines Vase: 1.16 x 1.92 in./3.00 x 4.90 cm
Etched Design Vase: 1.19 x 1.95 in./3.00 x 5.00 cm