Ok so who had the song from the Vengaboys – We like to Party.??? …. I have to admit I played the song over and over when typing this post LOL. Sorry I digress ……
For today's post I have used the brand new Party Bundle from the Make a Wish release. Who doesn't like a good staple birthday / party release?
I got my colour pallet from a previously release pattern paper 'Poppin' and used the bright cheery colours to influence my creations. Sometimes I let pattern papers lead the way with my creations so that is what I did today.
Instead of using the candles from the 'Make A wish' stampset inthe traditional sense I thought I would use it as a geometric design on a smaller white card stock panel with ink colours Party Dress, Cummerbund and Catching rays. I reckon you could create some cool boys cards with these stripe designs from the candles, dont you think? For me I am all about stretching my supplies. Dont get me wrong keep coming back to my blog as I have also created cards using the candles in the way it was intended. I just crated todays card the way it I felt at the time. For the Party die I also heat embossed the letters in Minty from the Pick me up Trios from WOW! Embossing Powder. (you know how I feel about heat embossing?) if not feel free to visit my youtube channel where I have tutorials up on more cardmaking. YouTube Channel
To finish the card off I used my all time stample of clear sequins 'Crater Lake'. Done & dusted. My biggest tip when it comes to card making is 'you do you'. Dont be afraid to find your style by colour combos, pattern paper, stampsets, dies, stencils, mediums whatever it is. Experiment and have fun. Keep the the feeling of joy as this comes through in your work.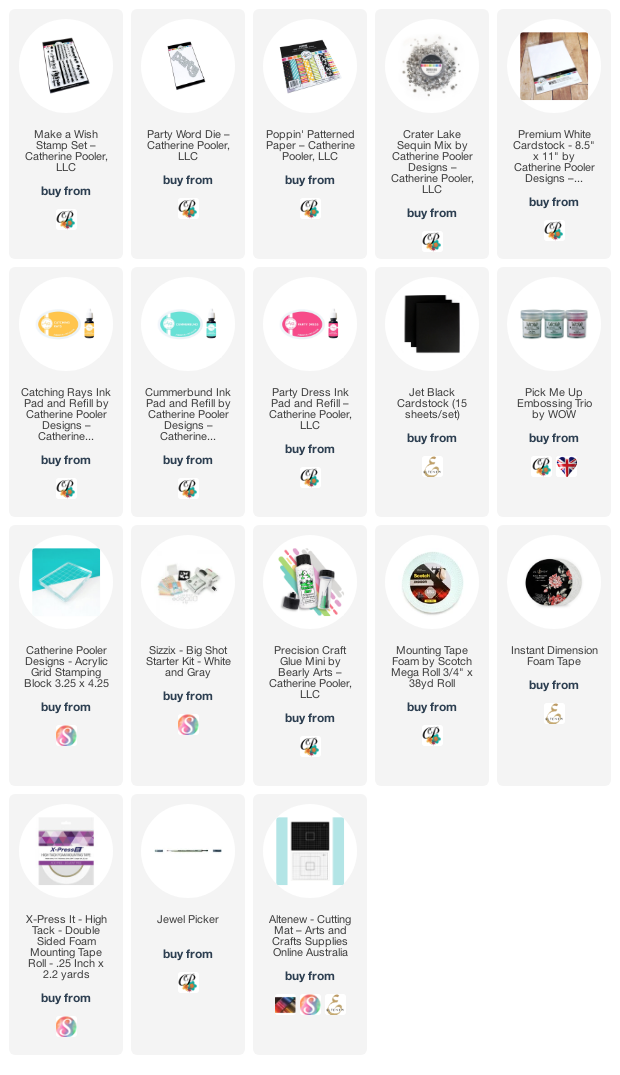 Shop here – http://shop.catherinepooler.com?aff=101
(affiliate link)
I have used a compensated affiliate link in this post, which means I get a small commission from the company directly at no extra cost to you whatsoever if you shop using these links. Any earnings I get from these links go back into keeping up with the craft creations to provide you some inspiration. If you enjoy my work, I'd be so grateful if you choose to support me this way. Thank you in advance!
Lots of love and happy crafting from Jo
——— FIND ME ONLINE———
Facebook | Instagram |Blog | YouTube Channel