For today's card inspiration with the new Catherine Pooler April Showers Bring collection a slimline card using the Bloomin Wellies stampset which I have heat embossed and coloured in with Karin Markers. The beauty about the new collection they have coordinating dies yippee to not fussy cutting.
Have you seen there is also matching slimline pattern papers ! I have cut the paper to have a quarter inch border spacing to see the white card base peeking through. I have also used the Essentials Slimline dies and mounted that on the pattern paper.
For the sentiment, I die cut the warm hugs sentiment dies and pressed into the Lemongrass ink. I then added some glossy accents and poured the Squid Earth Sparkles and let that dry and set.
This card was super quick and easy to put together. I hope this inspired you to create something similar.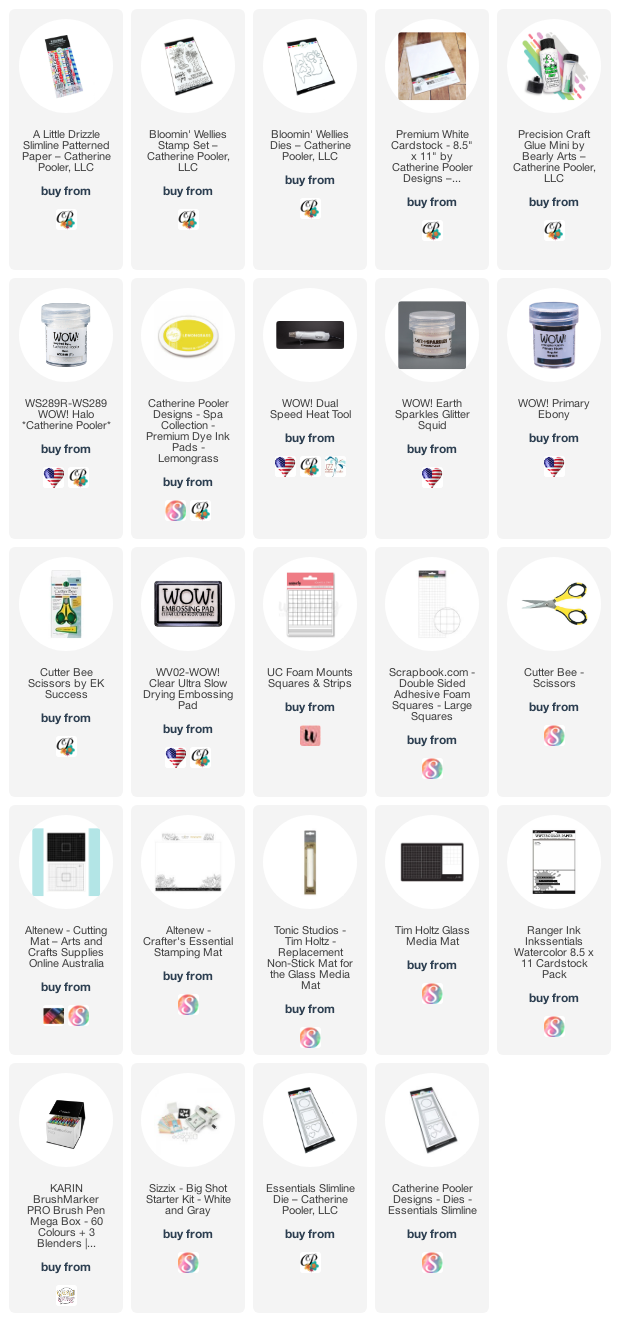 Calling for Drizzle Bundle (the whole bundle)
Pitter Patterns Stamp Set
Pitter Patterns Dies
Bloomin' Wellies Stamp Set
Bloomin' Wellies Dies
Under the Umbrella Die
A Little Drizzle Slimline Patterned Paper sample
Portland Sequin Mix
Shop here – http://shop.catherinepooler.com?aff=101 (affiliate link)
I have used a compensated affiliate link in this post, which means I get a small commission from the company directly at no extra cost to you whatsoever if you shop using these links. Any earnings I get from these links go back into keeping up with the craft creations to provide you some inspiration. If you enjoy my work, I'd be so grateful if you choose to support me this way. Thank you in advance!
Lots of love and happy crafting
Jo
——— FIND ME ONLINE———
Facebook | Instagram |Blog | YouTube Channel
As I am also part of the WOW! Embossing Powder Design Team WOW! have provided me a code for all my lovely subscribers to use. So, don't forget to take the advantage of a crafty 10% off all purchase for both WOW!
US and UK by simply using my code: WOWDTJH
Here are the links for both websites weather you're a US or UK user.
WOW! Embossing Powder US
WOW! Embossing Powder UK
(Affiliate Links)
I hope you enjoyed today's video and stay tuned for more to come. If you make a card with this technique, make sure to tag us #wowembossingpowder so we can check your creations out!
DISCLOSURE
I am creating this blog post with the purpose of sharing how I design my cards, the information provided here is base in my own opinion and creativity. I am not an expert by any means, and I only share the way that I design my cards. Most of the products used for my blog posts are personally purchased by me. However, I did receive the WOW! Embossing Powder products. Please, keep in mind that, all referral links are added for you to know from where either, I purchase or receive the items from as, all products shared and mentioned in each of my blog posts are simply because I use, and truly love them.